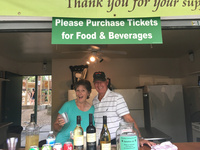 We have started a GoFundMe campaign to raise funds for improvements to Helen's Hut. It's time to upgrade the plumbing, the electrical and to give a face-lift to our beloved Helen's Hut.
You can either donate money or purchase items from Amazon.com. Either way you will be putting the Unity into Community and we thank you for that!
Due to the COVID 19 virus the Murphys Community Park is closed for rental. There will be no events public or private until further notice. For the health and safety of all do not use the playground.
We have installed a number of hand sanitation stations around the Park. Please feel free to wash your hands frequently.
---
Donate a Picket: Interested in helping support our wonderful Park? Pickets make up the playground fence and can be ordered by sending a $100 check to Murphys Community Club, P. O. Box 394, Murphys 95247. A max of 24 characters is allowed per picket. Allow 2-3 months for installation on the fence.
Here are some pictures from our fun in the Murphys Community Park.